5 Feb
Clear cap laser marking
05/02/2021
Marking clear plastic with high definition, quality and visibility is one of the biggest challenges in laser marking. The CO2 equipment, by emitting an infrared light spectrum, melts the plastic without generating contrast. Therefore, by reducing the wavelength with equipment such as Fiber and DPSS, it is very complicated to obtain a visible reaction  since plastics are usually totally transparent at these wavelengths.
However, with certain settings and the appropriate laser, it is possible to obtain reactions of very high quality in terms of contrast and definition that make encoding or marking transparent plastics possible.
Clear cap laser marking
In the case of this application, a logo is marked and a unit coding of the product is carried out onto a cap used in the medical industry. The marking time is 3.2 seconds with D-5005-Greenequipment with a 100×100 lens. The reaction obtained generates a high visibility white mark with a minimal effect on the surface.
Macsa id's D-Series equipment with light emission in the wavelengths of green (532 nm) and ultraviolet (355 nm) are the optimal solution to the challenges of high-quality clear plastic marking.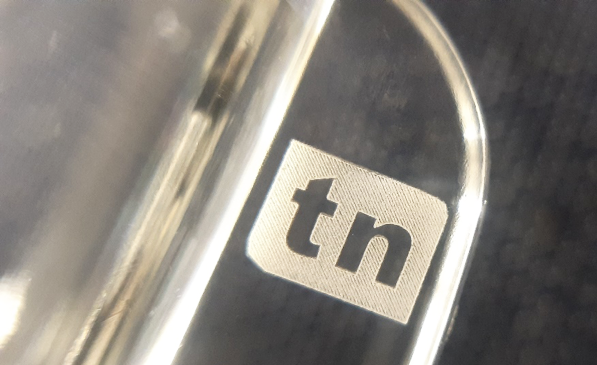 Technical data
Laser: D-5005 Green
Lens: 100 x 100mm
Market: Medical devices
Application Type: Marking
Product: Plugs
Material:  PMMA
Type of marking: Static
Marking time: 3,2 s.

Looking for a clear cap laser marking solution or other transparent components? Contact us and we will jointly look for the solution that best suits your needs.