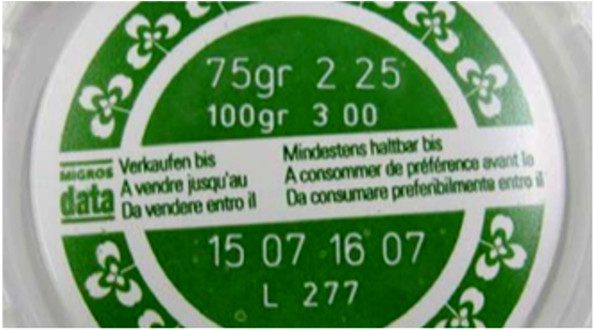 15 May
Chäs Vrneli – Plastic cup made of poly styrene (PS)
15/05/2017
This application required replacing the stamping system to mark on plastic cup in a filling machine (butter-worth) with variable consumer information with a system which is clean, easy and fast to handle in the production.
• Marking area approx. 40 mm x 35 m
• Speed up to 30 steps a minute
• 2 or 4 lines of text, easy handling
After a demo the customer was changing the preprinted layout of the cover in the way to have a green background for the laser marking.
The difficulties were that with the standard font we got wholes in certain characters like the "8" and others. Without a vacuum system we have a lot of dust coming from the green printed back surface going into to the plexi-glass protection, "damaging" the lens. The iCON unit is perfectly made for being integrated into packaging machines.
Electronic ready – end of marking signals are missing.
The result is a big improvement of the product marking, the customer is very happy for this clean (ink less), affordable and professional looking marking result.
CLIENT: CHÄS VRENELI www.chaes-vreneli.ch
COUNTRY: Switzerland
INDUSTRIES: Food / Dairy products
PACKAGING MATERIAL: Plastic cup made of poly styrene (PS)
LASER UNIT INSTALLED: 1 ICON 10 Watt, Standard lens
TIME FOR PRINTING: 0.3 sec.
STATIC APPLICATION:Up to 4 lines of text approx. 10 characters 30 – 40 units / Min.
REMARKS: Interesting application to replace old style of flexo printing application (see picture), especially used in cup filling machines for different dairy products.