Laser marking on cardboard is very common in the coding market as it is one of the most widely used packaging materials across various industrial sectors.
In today's technologically advanced world, getting information onto paper or cardboard may seem old-fashioned, but we actually use more paper now than ever before. As such, according to a report prepared by Cesce, global demand for paper and cardboard will grow to 490 million tons in 2030, an increase in consumption generated mainly by the momentum of e-commerce, home delivery, rapid urban growth and rising living standards in developing countries.
Macsa's innovative laser coding solutions for KH7 Lloreda
Table of contents
1. Laser engraving on cardboard
2. A success story: KH7 Lloreda
3. A modular CO2 laser for coding and marking
4. Control, management and optimization software
Thanks to their flexible and versatile qualities, large quantities of paper and cardboard are being used for product packaging; both in primary packaging used at the point of sale and in secondary packaging for shipping products by courier. In fact, an estimated 38 billion cardboard boxes are used worldwide each year.
In some sectors, such as the food industry, paper and cardboard have become a real alternative to plastic packaging, as they can be reused or recycled and at the same time meet the objectives of various organizations. For example in European Union member states, 100% of the packaging in their markets will have to be reusable or recycled in a cost-effective manner by 2030.
In addition, another favorable quality of paper and cardboard is that its environmental impact is much lower than other materials. Given they are renewable, recyclable and biodegradable materials, brown cardboard or natural cardboard take one year to decompose and disappear. This is relatively short compared to other materials: petroleum-based plastic products take between 100 and 1,000 years to degrade and glass takes about 4,000 years.
1. Laser engraving on cardboard
A range of technology can be used for coding and marking on paper and cardboard. Labeling is one approach and is widely used on these materials to display an array logistical information in a clear and efficient manner.
Direct printing using continuous ink (CIJ) and thermal transfer (TTO) printers is also very effective for high-contrast marking. The latest innovations also allow direct laser marking on cardboard. Inkless printing represents a great technique for marking important information while reducing environmental impact.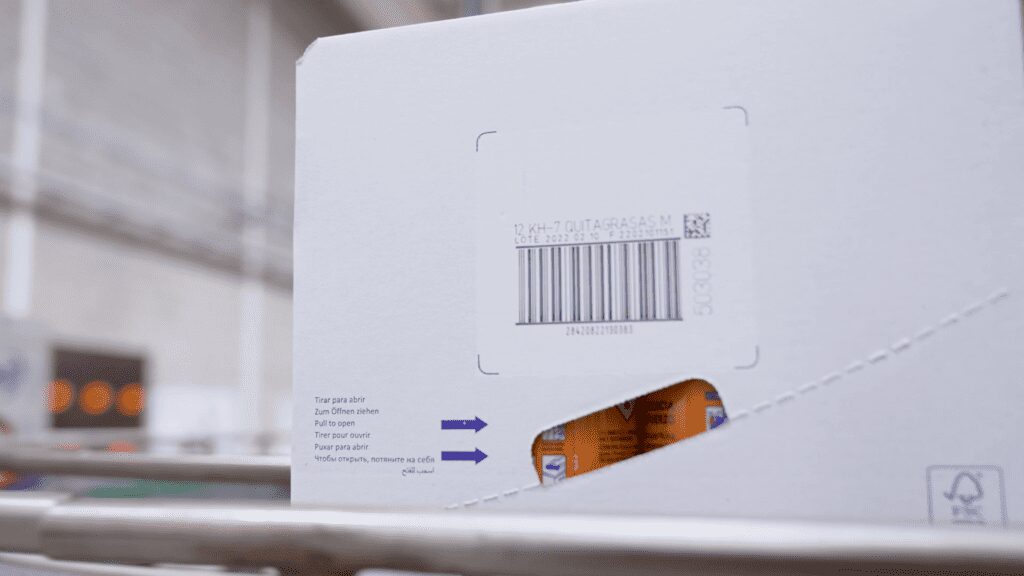 2. A success story: KH7 Lloreda
An example of laser coding on cardboard boxes can be found in the project our company implemented at KH7 Lloreda, the current leader for kitchen cleaners and stain removers in the Spanish market.
The challenge proposed to us by this well-known brand was to install a box printing system for the marking of its secondary packaging. This was to be integrated into the same production line, allowing it to be customized and for automatic format changes, without having to make adjustments when switching products.
For the side and front marking of the boxes containing the detergent bottles, Macsa ID integrated two 30W CO2 lasers from the SPA CB 30 series into the production line. In order to be able to mark the two adjacent sides of the box, a laser marking station was also installed. Finally, in order to obtain a high printing quality, carrying out static printing was recommended. As a result, three stopping points were added and synchronized with the laser equipment that regulate the passage of the boxes.
In this case, the equipment was installed and a reserve of laser additive was applied to the cardboard so that the appropriate contrast could be achieved. This meant that the codes could be read correctly, regulating the power and speed of the scanners to achieve clear and legible black marking of all the elements included in the coding, onto the white cardboard.
In the case of KH7 Lloreda, aside from cardboard, Macsa ID equipment also marks sleeve and pallet wrapping film, which are not shrink-wrapped in order to save on plastic use. Instead, one of the boxes containing the pallet is marked with a global marking which contains all platform information.
3. A modular CO2 laser for coding and marking
Macsa ID's SPA C equipment used at KH7 Lloreda are modular lasers with powerful and fast CO2 technology, designed to meet the most demanding coding needs and requirements.
The Macsa ID SPA C works perfectly on paper and cardboard, as well as materials such as glass, PET and various plastics, making them the most widely used lasers by packaging manufacturers.
This laser adapts to the speed and characteristics of each production line, providing permanent and legible markings to guarantee the traceability of each product.
This modular laser has a wide range of powers, speeds and optional features that allow customization so that the needs of each customer can be met.
Among other features, the SPA C series provides reliability, accuracy, versatility, connectivity, ease of use and adaptability:
Reliability because it incorporates the IP54 waterproof rating that ensures use in dusty environments. It is cooled by the RAF (Reverse Air Flow) circuit, which keeps it clean. The lenses receive a constant flow of air keeping them free of dust and impurities that could distort the marking.
Accuracy because SPA lasers are equipped with higher quality lenses to ensure high resolution marking even on high speed production lines.
Versatility because the modular system which the Macsa SPA laser is based on allows it to easily adapt to the needs of each production line or type of marking. Thanks to its modular design, tasks like installing optics, exchanging heads or printing on curved or irregular surfaces are made easy.
Connectivity because SPA lasers can work individually, but they can also work as a team: OPTIMA for complete real-time control of your company's production; NICELABEL to design, create and print labels; iLABEL SYSTEMS to print and apply in the desired position, and; REMOTE CONTROL to reset the machine remotely.
Ease of use because the Marca® laser control software has been redesigned to make it really easy to use, offering the operator all possibilities in terms of message design and equipment control. In addition, SPA printers come with videos and instructions to facilitate installation and integration.
Adaptability to the changing needs of production lines (higher speed, new materials, more complex graphics and messages, etc.). To optimize the performance of the laser and allow optimal integration of the laser to the needs of your production line, a wide range of essential accessories and extras are available.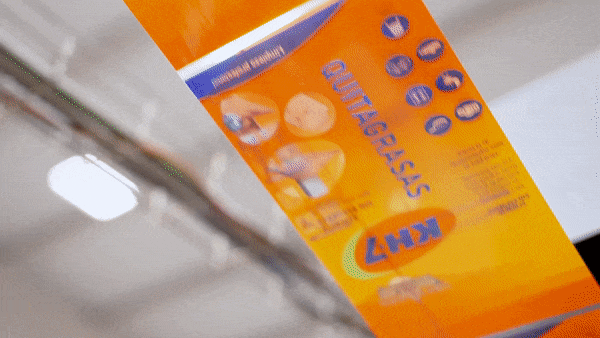 4. Control, management and optimization software
The solution implemented at KH7 Lloreda also included Marca software by Macsa ID for designing the messages marked on the boxes. Integra Optima software can be integrated into the customer's ERP, centralizing the entire coding and marking process at a single point, drastically reducing the number of interventions and consequently the possibilities of human intervention errors.
Thanks to the solutions provided by Macsa ID, the customer has obtained a highperformance marking system that does not cause production stoppages, since it avoids the use of continuously replaced consumables, and at the same time reduces their environmental impact.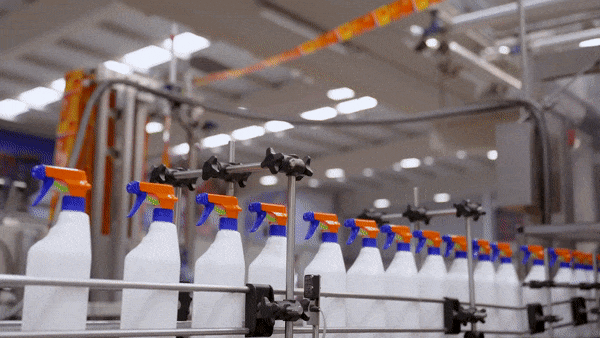 If you are looking for the best laser solution, do not hesitate to contact us: