Coding, tracing and marking solutions

Innovative products
In Macsa we invest in innovation in order to respond effectively to the changing needs of our clients.

Solutions for all markets
Macsa provides coding solutions for a wide range of materials and production environments.

Guaranteed traceability of your products
Macsa coding systems enable your products to be identified throughout the entire length of the supply chain guaranteeing product integrity to your customers.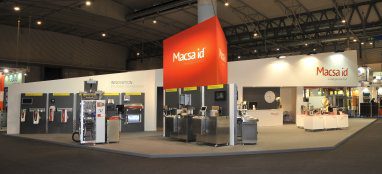 INNOVATIVE COMPANY
WITH A HISTORY THAT DATES BACK MORE THAN 100 YEARS
Macsa ID is currently offering the widest range of coding and marking equipment on the market and is the only Spanish company that manufactures laser marking equipment and the first company in the world to develop a laser to code dynamically on production lines.
Macsa's history dates back to 1910 with the foundation of its parent company Framun, specialized in rubber stamp manufacturing. It soon started distributing equipment and consumables throughout the country and in 1983, due to an increasing industrial coding demand and new ink-jet technologies available, it created the independent new brand Macsa.
Macsa is present in more than 80 countries providing solutions to several globally recognized brands for food, beverage, pharmaceutical, cosmetics, automotive, electronics, textile, etc.