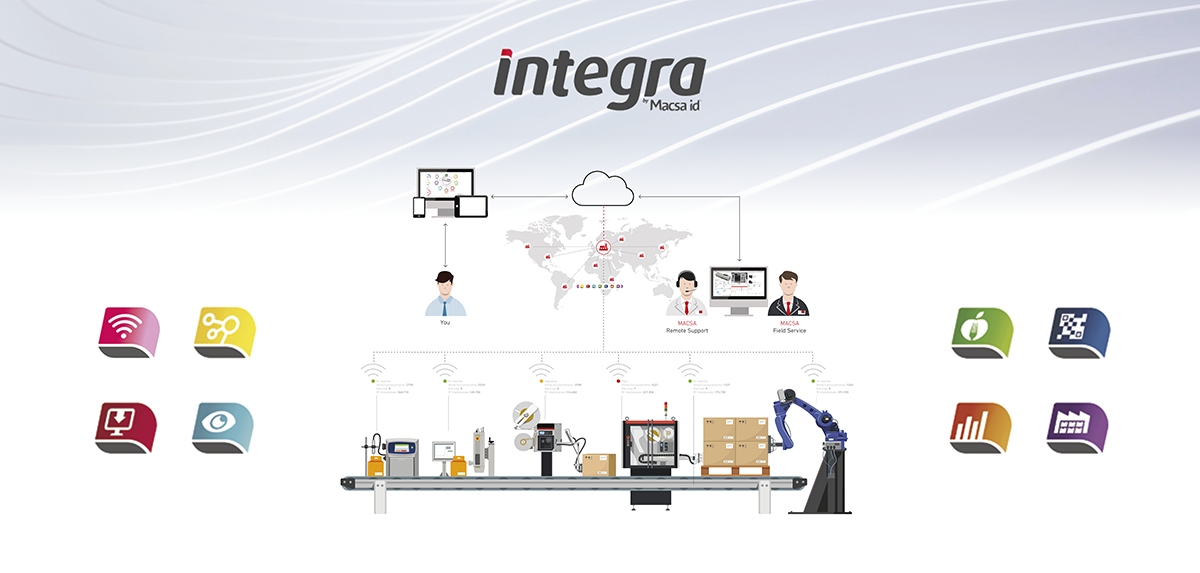 17 Nov
Integra; modular software for production line management
17/11/2022
Integra, coding and traceability process optimisation and management in the production industry
For Macsa id, offering a comprehensive service to our customers is essential. That's why, in addition to having the widest range of lasers, along with coding and marking technologies on the market, we offer software solutions to manage, monitor and optimise production line equipment.
With the Integra suite and its multiple software modules, we offer a comprehensive service: software and hardware to meet the specific needs of each customer, regardless of their sector.
The combination of this comprehensive service, hardware and software, is one of the pillars that has made Macsa id a world leader and an innovative benchmark in coding, identification and traceability solutions.
Integra includes a total of 8 modules: Connect, Optima, Vision, Track&Trace, Serialization, Efficiency, Warehouse and Integranet 4.0.
Integra, Macsa's innovative modular software to manage production lines
TABLE OF CONTENTS
Integra Connect
Integra Optima
Integra Vision
Integra Track & Trace
Integra Serialization
Integra Efficiency
Integra Warehouse
Integranet 4.0
Integra, la solución de un líder
Integra Connect, the single software solution to manage production lines
This connection software integrates different equipment (encoders, readers, artificial vision…) from the main manufacturers.
Integra Connect centralises equipment with different systems and controls, utilising more than 3,000 different laser technology markers: Continuous Ink Jet, Thermal Ink Jet, Thermal Transfer, Micro Drop on Demand, Small character Ink Jet, Large character HR and High Speed Printing Thermal Ink Jet.
Compatible with all of these coding technologies, the software allows the equipment and production to be monitored from anywhere, any time, without the need for access to the equipment. In addition, it reduces the possibility of error and travel on the production floor.
This innovative application integrates seamlessly into information systems, importing data from your ERP or MES system to obtain the Item Master or planned manufacturing orders. It also allows you to obtain the history of coded products and record coding errors.
Finally, it has its own linking tools or those of the main ERPs based on text files (TXT/CSV) and optionally those of the main ERPs (SAP, NAVISION, ORACLE, SAGE, etc.) adapting to all types of label design programmes.
Integra Optima: benefits of modular software to help you manage production lines
This application for the centralised management of the coding, marking and identification process, drastically reduces the number of operations, and as a result, the possibility of human error.
Integra Optima minimises errors in the coding process, generating direct savings in:
Small impact incidents such as, shrinkage and rework.
High impact incidents such as loss of public image, customer relations, logistics costs, etc
This software reduces and simplifies the tasks necessary for the execution of coding, which reduces changeover times and direct operating costs. For example, in simplifying the management of label formats, it enables product-based mapping by assigning the label format to be used. It also offers the functionality of using a single format with variable fields for multiple items, incorporating data or wording directly from the ERP and controlling all label formats from a single point.
This application integrates with most ERPs, controls traceability in the coding process and offers real-time information on production lines. As such, in the automatic generation of coding and label information, it facilitates the calculation of batch numbers and expiry dates, in multiple formats and with the option of printing using RFID technology.
For more demanding requirements, the software has a Plus version, which allows the status of equipment and production processes of all the lines in a plant to be visualised, as well as their corresponding packaging stations. Thanks to this functionality, the plant manager can check the productivity of each of the production lines with maximum functionality and efficiency.
In terms of results, Integra Optima makes it possible to review the operational status of the plant, offering an increase in available production capacity, a reduction in documentation time, along with the collection of production information.
Integra Vision: software solutions for production line verification and monitoring
This solution verifies and checks coding and production.
Integra Vision tracks the product from manufacture to the customer, ensuring the accuracy of labelling and checking that the texts and codes are correct.
Its vision systems are fixed industrial ID readers, portable industrial ID readers, code verifiers and machine vision cameras.
Integra Track & Trace, innovative modular software that gives you the best options
This is our traceability solution for production processes. It is the complete solution to monitor all the components and transformations of each of the final product units, as well as to register the origin of the raw materials and the destination of the final products.
Integra Track & Trace software offers a range of solutions:
Traceability of the raw material: registration of the raw material and intermediate product origin.
Traceability in the production process: registration of every element that makes up the finished product unit.
Traceability of packaging units: aggregation of product / primary / secondary and dispatch (pallet) packaging.
Traceability for the distribution and destinations of the finished product, capturing the destination information on the delivery note.
End-to-end traceability in the production process, with multiple options:

Creation and control of sub-batches in the processes of classification and division of a batch of raw material.
Real-time product checking in intermediate stocks or in progress.
Creation of finished product genealogy; batches of raw material, additives, auxiliary elements and sequence in production.
Traceability for the distribution and destinations of the finished product.
This software is especially recommended for food, fruit and vegetable, beverage, pharmaceutical and meat companies.
Integra Serialization, the best modular software for production line management
This software is for individualised traceability of the supply chain. It provides each product with a unique serial number, used to authenticate the product at one or more points along the supply chain.
The application encodes each production unit with a unique ID to enable traceability at unit level and checks the distribution chain for fraudulent copies.
Integra Serialization also offers the following functionalities:
High-speed serialisation.
Print-verify-eject cycle: registration of correctly marked products, with the indicated content and quality parameters.
Obtaining serial numbers: by means of generation and import schemes by file.
Bottom-up/top-down serialisation modes.
Export of serialised production.
Integra Efficiency, all the great benefits of modular software that help you manage production lines
This application offers a monitoring system for managing the efficiency and optimisation of the production line. In turn, this allows for automated collection and analysis of production data and the visualisation of all key parameters in real time.
Regarding the automated collection automated production line data collection, Integra Efficiency eliminates manual data entry to obtain more information on unplanned events and actual production data; increases data quality with complete, relevant and reliable information; eliminates the possibility of error or deviation from manual entries; and records details of events that may otherwise be forgotten.
Production data can be visualised in an easy and understandable format, the application easily identifies improvement opportunities with report graphics and advanced analysis and allows you to:
Quickly identify opportunities for improvement.
Set trends and patterns in production.
Access reports from anywhere via PC, tablet or smartphone.
In the section on real-time visualisation of all plant activity parameters, the application displays provide real information about the plant so that operators are aligned with business objectives.
These functionalities make it possible to motivate employees to stay on target, to respond quickly to potential setbacks and to create a culture of achievement and continuous improvement.
Integra Warehouse: production lines managed by the best modular software
Warehouse Management System (WMS) allows you to manage warehouses for both raw material and finished products.
Integra Warehouse can manage multiple warehouses with different characteristics and operations. All the usual warehouse processes are covered by the system, also providing the necessary elements for more complex functionalities such as input planning, reverse logistics, batch control, picking, cross-docking or packaging. The system guarantees complete monitoring of all processes within the warehouse.
The Integra Warehouse module enables companies to meet the following objectives:
Improving the quality of customer service, via:

Reliable control of locations and stock
Reliability of deliveries
Decrease in errors
Reduction of the order-delivery cycle

Availability of real-time information on:

Stock situation in each of its states
Operator positions
Location of handling equipment

Increased productivity of all warehouse resources, to achieve a higher level of service without increasing operating costs, through:

Elimination of downtime
Reduction of administrative work
Real-time work planning
Constant work pace based on priorities
Increasing warehouse capacity
Do you want more information about Modular Software?
Integranet 4.0 is the modular software to help you manage production lines
This software is intended for remote data and equipment management, offering monitoring services, predictive maintenance, remote assistance and production support.
Integranet 4.0 is an application that supports the structure of Macsa id's new 4.0 technology and services.
This software module is intelligently designed to be able to provide information about its status, to make basic decisions autonomously, and to be able to interface with other equipment and information systems. In addition, its modular construction facilitates the replacement of components, minimising the downtime of any equipment.
For optimal operation, data collection and distribution must be carried out in both directions, simultaneously and globally, between all systems, in order to supply information for real-time machine operation. Cloud architecture is a key aspect of this, namely for the intelligent distribution of information gathered from various sources, its processing and transformation into decision making.

If you would like further information, please get in touch with us.