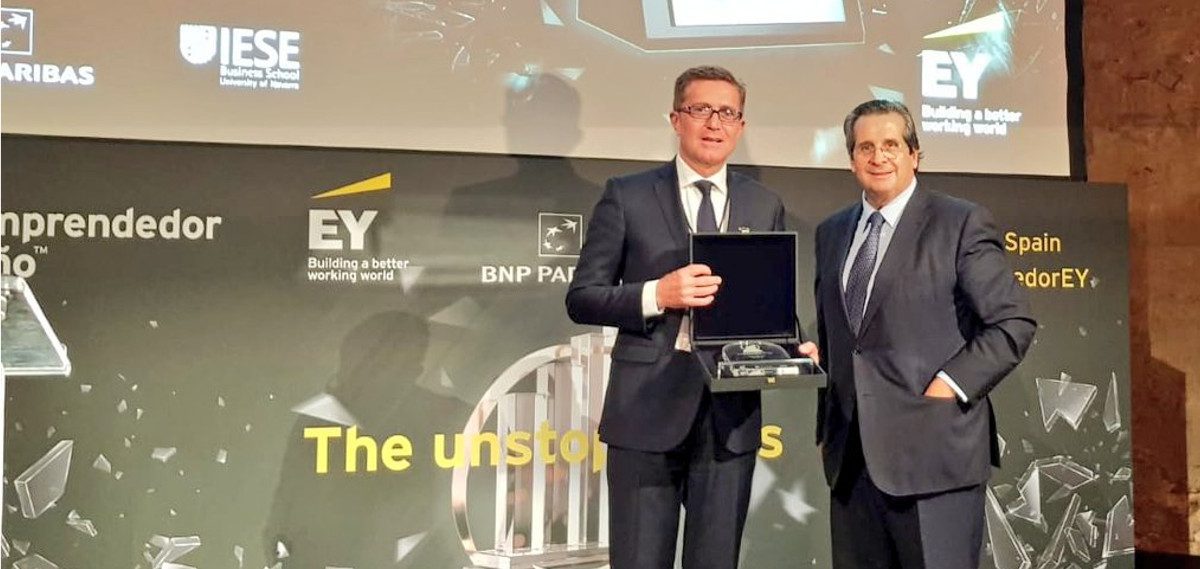 23 Jan
Jordi Piñot, President and CEO of Macsa ID, Catalonia finalist for the EY Entrepreneur of the Year Award
23/01/2020
The prestigious award, which celebrates its twenty-fourth edition in Spain, is sponsored by BNP Paribas and the collaboration of IESE
The act of proclaiming candidates for Catalonia for the prize was attended by more than a hundred representatives from the business field and previous finalists
The candidates will go, along with the other regional representatives, to the national final of the Entrepreneur of the Year Award, which will take place on February 20 in Madrid
Regional finalists
Jordi Piñot (President and CEO of Macsa ID), and Josep María Guilera (President of Manusa) with children and advisers Ana, Carles, and Laia Guilera were proclaimed finalists for Catalonia for the EY Entrepreneur of the Year Award last night, an award sponsored by BNP Paribas and in collaboration with the IESE Business School. The objective of the award is to recognize entrepreneurs in their leadership capacity and innovative spirit.
"Capella del Convent dels Àngels del MACBA" hosted the event, which brought together more than a hundred representatives of the Catalan business world – among them, finalists of previous editions of the award. Attendants from the EY included José Luis Prada (Partner responsible for EY in Catalonia), José Luis Ruiz Expósito (Partner of EY responsible for the Entrepreneur of the Year Award nationwide) and Xavier Pujol (Partner of EY responsible for the Prize Entrepreneur of the Year in Catalonia). Also participating in the ceremony were Cecilia Boned (President of BNP Paribas in Spain) and Juan Roure (Professor at IESE Business School).
National finalists
Both Jordi Piñot and Josep María Guilera and his children will compete with the rest of the finalists before a jury formed by prestigious personalities from the business, institutional and academic world. Each of the finalists will be evaluated by the jury who will decide the final winner, which will be announced on February 20 in Madrid.
Among the finalists to this edition of the Entrepreneur of the Year Award are also Ignacio Osborne, President of Osborne (Andalusia and Extremadura); the Cortizo Sisters, from Grupo Cortizo (Galicia); Juan and Íñigo del Hoyo, CEOs of Azul Marino Viajes – Grupo AM (North Zone); Antonio Horrach, CEO of HM Hotels (Balearic Islands); Alfonso Sesé, President of Grupo Sesé, and Clemente Loriente, CEO of Incarlopsa (Central Zone); Antonio Arias Paredes, Vice President and CEO of Grupo Vectalia (Valencian Community and Region of Murcia) and Sergio Arencibia, President of Emicela (Canary Islands).
The Spanish winner of this edition will compete in Monte Carlo with around 60 representatives from all over the world for the EY Entrepreneur of the Year Award.