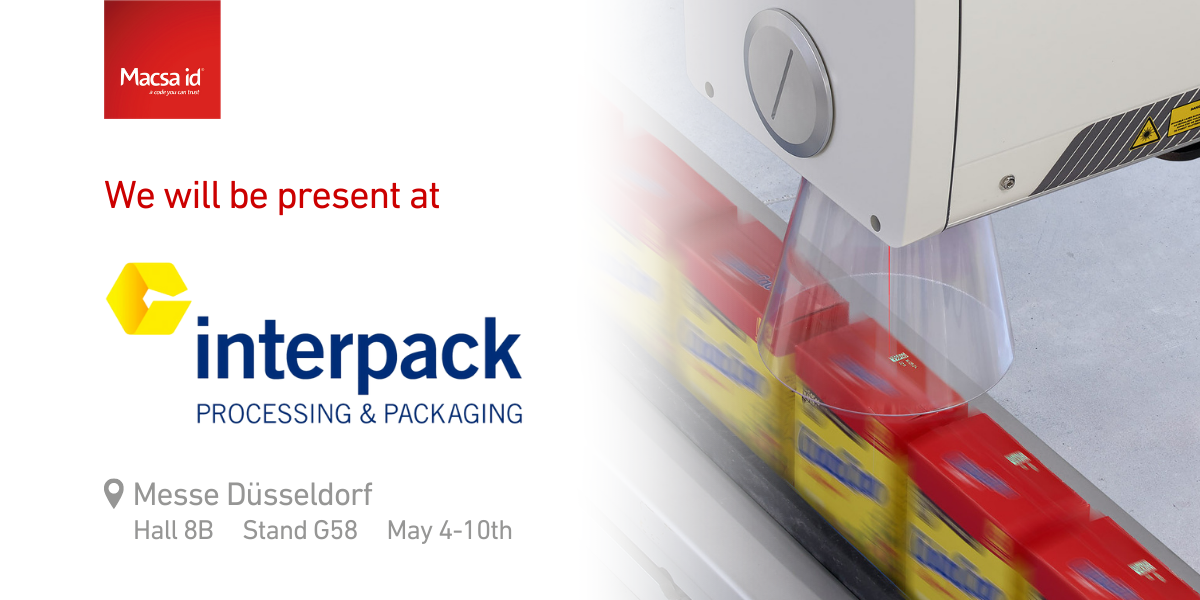 28 Apr
Macsa will be present at Interpack 2023 once again this year with a revolutionary innovation!
28/04/2023
The new edition of Interpack will be held from 4th to 10th May in Düsseldorf. This is a new opportunity to bring the entire global packaging industry together, as well as stay updated with technological developments, innovations and sustainable packaging trends for the food and beverage, confectionery, bakery, pharmaceutical, cosmetics and industrial goods sectors.
We will be present at stand G58 in Hall 8B at Messe Düsseldorf, with our latest innovation, the best coding and laser marking solution for carbon footprint reduction.

Would you like to meet with an Area Manager?
New products that will be presented at Interpack:
The Macsa id industrial labellers that allow labels to be brought closer and applied to surfaces of different sides. You will be able to see:

The Lineal idBlocks 4020 with a high-power overlapping system to guarantee excellent label application. 
The Frontal idBlocks 4030 label applicator which allows labels to be printed and applied on different sides of the product.
The Blow idBlocks 2050/60 with a non-contact overlap system for label application.
The most complete range of packaging lasers. The following will be on show:

The current fastest ultra high speed QR coding laser, BiDiLase. The only laser on the market capable of doing what others still dream of: super speedy coding; maximum marking precision; unique, ultra high speed serialisation; full production line integration; unique digital passports; greater production control to guarantee traceability; clean and waste-free.


The new Green, Smart & Revolutionary laser for 100% sustainable small characters. It is the best coding and marking solution to reduce your carbon footprint and it will be shown for the very first time at Interpack 2023.
Interpack 2023 is just around the corner and we are looking forward to sharing our new laser coding and marking solution for even greater sustainability.
Would you like to visit Macsa at the Interpack stand?