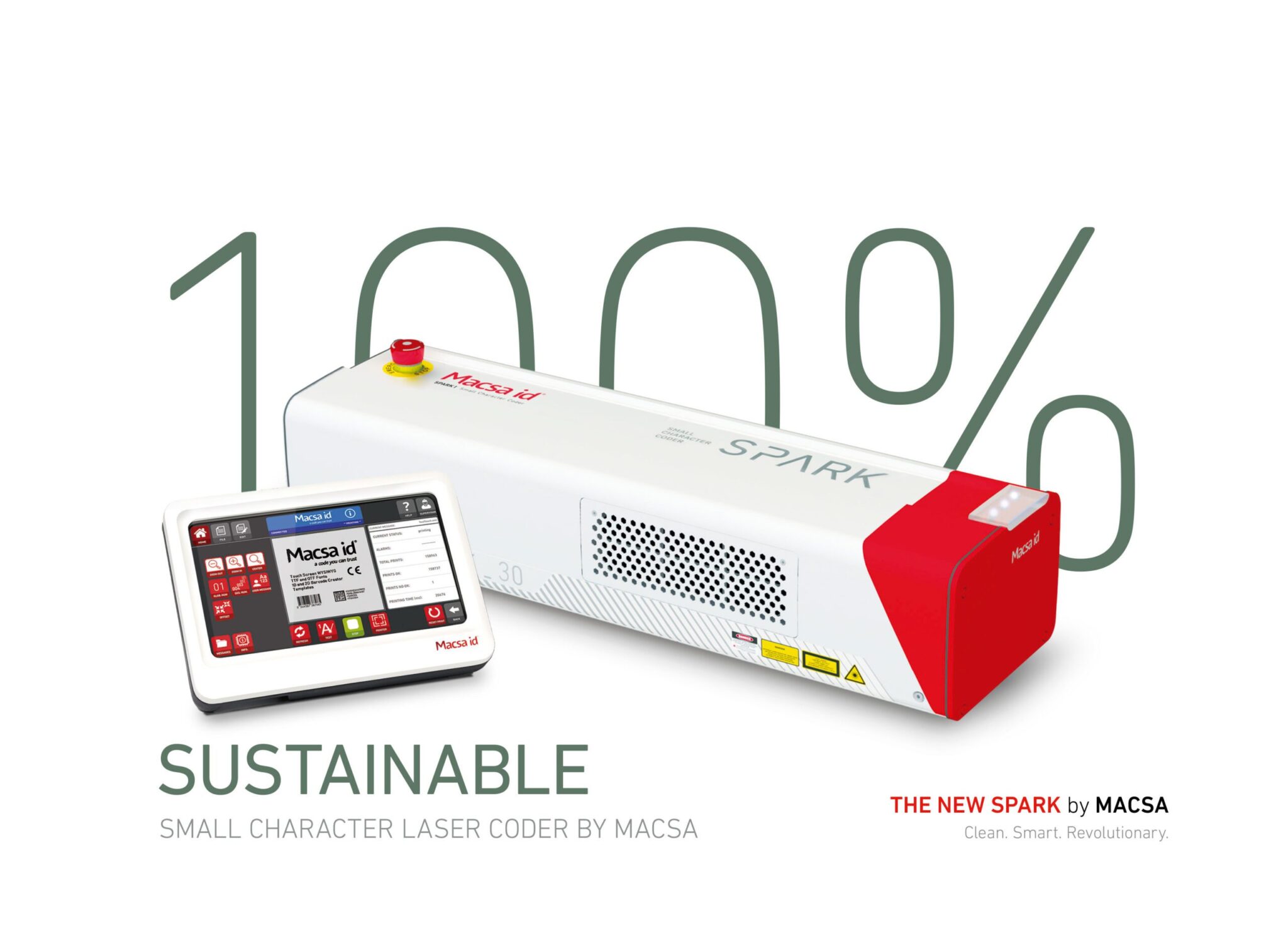 8 Jun
SPARK, the new revolution in packaging lasers by Macsa id
08/06/2023
Companies in various industrial sectors are incorporating equipment and traceability systems that automate their production process tasks. Knowing the origin and path a product has taken until it reaches the consumer is synonymous with the guarantee, quality and transparency that an industrial traceability system provides nowadays. In order to increase the efficiency and profitability of this system, Macsa id has launched SPARK; a new laser that offers innovative features that provide high reliability at a very competitive price along with high quality. 
This is a clean and intelligent CO2 laser coder that allows the coding of small characters on the key materials and substrates used in the packaging industry for different sectors.
Why is SPARK sustainable?
The SPARK laser is a green, 100% sustainable machine because it:
Consumes less energy than inkjet coders.
Generates zero waste.
Reduces emissions and lowers your carbon footprint.
Eliminates the need to recycle potentially harmful waste products.
Reduces operating costs by eliminating the need for consumables, inks and solvents.
Makes the production lines themselves environmentally friendly.
Facilitates a clean and hygienic working environment.
Choosing the SPARK laser is also a smart choice because:
The new interface technology is more than just a touch screen; it is the gateway to a multitude of functions: from full control of all the laser's features, to vital information related to your production line.
It combines intuitive software with online video tutorials, allowing operators with no prior technical knowledge to quickly and easily unlock the full potential of the machine.
It is incredibly easy to use, with the fastest and easiest message creation software on the market. New templates reduce message creation time by up to 50%.
It is compact, lightweight and easy to connect. The new wizard reduces setup time, avoiding the trial and error method of other equipment.
It is easy to integrate, as the new digital galvos and controllers together with the new dual processor makes it easy to integrate, even for the most demanding production lines.
It is easy to connect, as its multiple options enable easy ethernet connectivity to control and manage the equipment remotely.
It is easy to manage thanks to Integranet 4.0 software, which allows remote data and equipment management, production line efficiency monitoring and maintenance planning.
It is fast because the laser uses high-performance lenses, powerful hardware and advanced software that enables high speeds on packaging production lines.
Would you like to discover more about Spark?
SPARK is revolutionary because as well, as the aspects described above, it is a quality laser at a very competitive price. After little more than a year, the laser will have cost less than an inkjet system. In addition, and thanks to its advanced laser technology, SPARK is keeps maintenance costs to a minimum. For all these reasons, it is a real innovation in the packaging sector, both nationally and internationally.
A laser for most consumer packaged products
The SPARK laser allows small character coding on materials and substrates such as cardboard, glass, organic, PET and wood, across a wide variety of industries.
The laser marking provided by this equipment is permanent, sustainable and indelible. In this way, the printed code cannot be altered or manipulated, ensuring product traceability throughout the manufacturing process and supply chain. This kind of marking is ideal for preventing counterfeiting and ensuring brand and product protection.
As such, SPARK provides the highest quality legible marks throughout the product shelf life and is the best laser for the following production environments:

Need a technician to contact you?
Leaders in coding and traceability
The new SPARK laser and its complete range of accessories is the result of 35 years experience, know-how and innovation of the company; qualities that have made Macsa id one of the five leading companies in the world specialised in coding and traceability with laser marking. This leadership position is maintained thanks to the investment of 10% of its annual turnover in R&D&I.
Making innovation one of the company's strategic keys has enabled Macsa id to register 30 patents, which have led to some of the most important advances in the industry. Some examples include the first dynamic laser for coding on dynamic production lines (1990) and the first fibre laser for in-line coding (2009).
Today, Macsa id provides its customers with a broad portfolio of solutions related to their coding, identification and traceability needs, combining a extensive range of hardware and software technology, services, consumables and other supplies.
This innovative range, both offline and online, is the widest in the industry and has been designed to provide the best laser marking solutions for manufacturers in industrial sectors such as automotive, medical, pharmaceutical, cosmetics, engineering, electronics, jewellery, security, promotional items, as well as defence and aerospace construction.
Different sectors require different materials to mark and code on: metal, plastic, film, steel, stainless steel, titanium, carbides, resin, silicone, gold, silver, platinum, PFTE, aluminium, PVC, ceramics, chrome, ABS, chrome, wood, organic.
Another fundamental strategy for the development of Macsa id's business has been its orientation towards internationalisation. This strategy led to having subsidiaries in 4 countries and to operating its equipment and services in more than 90 countries, thanks to a wide network of distributors that extends over 5 continents. This wide area of operations is key to offering a comprehensive service to its customers and providing a personalised response to emerging needs in the field of product coding and traceability.
Macsa id will be delighted to find the marking, coding and traceability solution that best suits your needs