Macsa Ceramics is the new division of Macsa id created in 2015 with the integration of Neoid System, specialized in coding, marking and traceability in the ceramic industry.
Aware of the specific demands of this sector, Macsa id has created this division to offer customized global solutions that meet the traceability needs of its tile customers. For this purpose, Macsa Ceramics provides management software alongside the range of technology necessary to identify tiles, boxes and pallets, as well as the necessary consumables for marking.
To guarantee a close and immediate service, Macsa Ceramics has located its headquarters in Castellón, but offers coding, marking and traceability solutions throughout Spain. The proximity to the customer and the know-how, make it a benchmark of efficiency in the tile sector.
Macsa Ceramics, a new benchmark in traceability and coding in the world of tiling
Table of contents
2. Some success stories in the sector
3. The most versatile printers
4. Integra Ceramics, sector specific software
5. One single supplier, one global solution
1. Macsa Ceramics solutions
For marking on tiles, boxes or pallets, Macsa Ceramics offers companies in the sector a set of comprehensive solutions that include equipment, consumables and applications.
In the first section, we have a wide range of printers/labelers for the identification of tiles, packaging and pallets. This range includes the following equipment:
Continuous inkjet printers (CIJ).
Thermal inkjet printers (TIJ)
Drop-on-demand (DoD) inkjet printers
Contact or blown labeling systems
In the consumables section, Macsa Ceramics also has a wide range of inks and solvents to cover the different requirements that our customers may have. One item of note is mineral oil free MOF inks, which reinforce Macsa Ceramics' commitment to sustainability.
As a complement to its global solutions, Macsa Ceramics also has an innovative computer application, Integra Ceramics; software that communicates between the ERP and the printers in the system implemented.
2. Some success stories in the sector
As specialists in traceability and coding in the world of tiling, Macsa Ceramics works with numerous companies in the sector, offering global solutions that have led to significant successes in their implementation. This is the case of Argenta Cerámica and Grupo Halcón.
The first case is a company that manufactures and markets all kinds of ceramic solutions, in floor and wall tiles in red body, white body, porcelain, full body, polished, non-slip, rectified, … in a wide variety of finishes, designs and formats. Its products are currently present in more than 117 countries in the 5 continents.
Argenta Cerámica, which has different factories and logistic centers, has three different marking systems: the Linx 8900 printer, to identify the pieces; the idJet 70 Arco box printer, with four heads to print the different international marks and certifications on the box; along with the idBlocks 6020 linear labeling system, to identify the pallet, with all types of coding and variations to adapt to the needs of its customers.
Rafa Calpe, head of Continuous Improvement at Argenta, highlights the flexibility of Macsa Ceramics as a key factor in serving a large number of customers. The printing quality of our equipment to meet the requirements and demands of the most critical customers is also key. "The relationship with Macsa Ceramics is a long-standing relationship because we count on and trust in their products" says the manager of this important company.
Another success story is the one implemented at Grupo Halcón, one of the world leaders in the production of ceramic tiles based in Spain, which has three well-known brands that are manufactured on 21 production lines.
For Francisco Rubio, CIO of the Halcón Group, "what Macsa Ceramics is offering us is, above all, vast experience in the sector and software that is easily adaptable to any environment and information system. Therefore, if you combine their experience and accessibility with the ease of connectivity of their software, this combination is what a group like us demands from a supplier".
The following equipment is currently in operation in the production plants of the Halcón Group:
Linx 8900 printer for tiles
idJet 70 Inkjet printer and idBlocks 4020 linear printer for cardboard boxes
idBlocks 6020 linear printer for pallets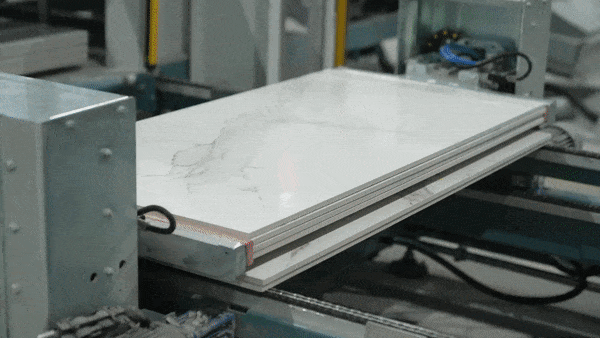 3. The most versatile printers
For marking on tiles, boxes or pallets, Macsa Ceramics offers companies in the sector the following range of equipment:
Continuous Inkjet Printers (CIJ)
These are especially recommended for coding on flat or curved surfaces since inkjet printing is done without direct contact with the product. There are various series, among which the Linx 8900 stands out as it contributes to maximizing efficiency during production, saving costs and time.
It prints codes that are readable by both operators and machine-readable systems, incorporating functions that speed up handling and maintenance. It is a highly flexible coder that can be used for both primary and secondary coding.
The versatility of the Linx 8900 series inkjet printers makes them suitable for both ceramic coding and a wide range of materials and substrates.
This printer is even more versatile thanks to the notification functions that increase productivity, reducing production stoppages as it releases information in real time during the process.
Thermal inkjet printers (TIJ)
Compact, simple and easy-to-use high-resolution coding equipment is the new generation of high-resolution thermal inkjet printers. They are based on HP's TIJ (Thermal InkJet) technology which, in addition to being compatible with solvent inks, is clean, odorless and permanent.
UV, aqueous and solvent inks allow these printers to mark perfectly on ceramics, as well as a wide variety of substrates and materials such as paper, cardboard and aluminum.
Drop-on-demand (DoD) inkjet printers
With this system, high quality prints are obtained at high speed on all types of surfaces. There is no direct contact with the product, which ensures maximum protection.
Featuring low maintenance costs, Macsa Ceramics offers the idJet series, the 70 inkjet printer and 70 Arco head inkjet printer models, with a system that incorporates up to 4 high resolution printers to mark the three sides of the boxes.
Contact or blown labeling systems
Among the different series within this system, the idBlocks 6020 linear stands out; a low-cost label applicator for single-side or multiple-side rotary pallet labeling.
The idBlocks Pallet 6020 labels the side of the pallets and each machine stop is a label application. If more than one side is to be labeled, the pallets must be rotated.
Optionally, it incorporates the bar code scanner for verification on the application paddle and, if necessary, this series can be installed inside a protective cabinet.
4. Integra Ceramics, sector specific software
Integra Ceramics is the solution for the management traceability and coding in the world of tiling that every tile manufacturer would like to have in the tile selection and sorting area.
This solution saves time and reduces errors caused by human intervention in the marking of the pieces, the boxes and the pallets.
The main features of the solution are:
Multi-plant: several plants can be controlled with the same database.
Multi-line: up to 20 lines per plant.
Allows production orders to be planned and manufactured in the selection area, in a very intuitive way for the operator.
Integration with any ERP (Navision, SAP, etc…).
Centralization of the different printing designs or printing recipes.
Control of all marking systems from Integra Ceramics (Linx8900, Idjet series and idBlocks series).
Communication with the factory's strapping tunnels and pallet movement systems (LGVs), to offer automatic pallet labeling.
Notifies the ERP of finished product information for subsequent placement in the warehouse.
5. One single supplier, one global solution
One single supplier, one global solution Macsa Ceramics solves one of the main concerns of our customers in this sector: dealing with a single supplier that can cover the equipment, coding and labeling management software needs and the relevant consumables. This is a global solution that offers an excellent service with significant added value.
If you are looking for the best laser solution, do not hesitate to contact us: